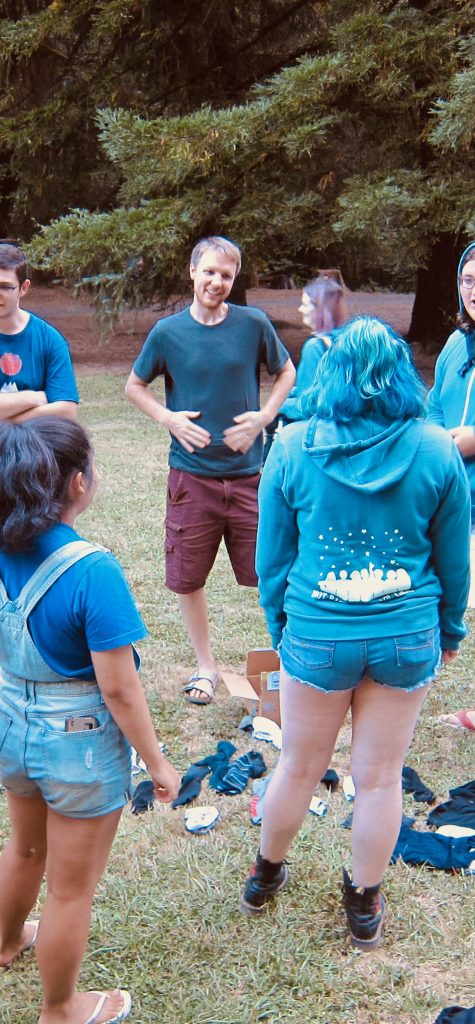 Our beloved session director, Matt Sanderson, has worn pretty much all the staffer hats at NBTSC. And, to borrow from his own words, the best thing about him isn't that he is incredibly accomplished, talented, interesting, good looking, funny, and brilliant. It's that he really cares about the other staff and about NBTSC campers.  
Hello NBTSC community! I thought I'd write and share my perspective, having seen camp from a number of different roles throughout the years. 
For those who don't know, this summer will be my fourth year directing both the Oregon session at Camp Myrtlewood and our Vermont session of camp. I started at camp as a junior staffer in 2008, and since then have served as Logistics Coordinator, Dish Queen, Advisor, Night Owl, health person (mama bear) and  Project Leader before becoming a director.

It's been a lot of fun wearing these different hats but one thing that strikes me when reflecting on the different roles I've had is how much overlap there is between all of them. Whether my primary role is scrubbing dishes, or staying up most of the night with campers, or directing the session, one of the greatest parts of being on staff at NBTSC is how all of  our roles overlap and interact with one another.

For example, every camper at NBTSC is part of an advisee group. But also, it isn't uncommon for the campers who spend the most time in the kitchen or doing dishes (often worktraders) to develop a strong bond with the cooks or dish supervisors and to feel a connection and sense of home in those spaces. A core part of being on staff at NBTSC is taking an active role in making sure that our campers are feeling safe, respected and cared for. Sometimes it will become clear that the best person to have a nurturing or difficult conversation with a camper who is having a hard time might be the person whose primary job is to cook food or do dishes.
Similarly the junior staff play a unique role at NBTSC. Often they are recent NBTSC alums and they are almost always the staffers closest in age to campers. This puts them in a position to be influential in the way that they carry themselves and interact with campers. The way that they nurture and interact with campers often helps campers to see themselves as potential role  models, and inspires them to actively participate in creating NBTSC culture.
One of my favorite roles was that of Night Owl. I was the Night Owl at one of our Joshua Tree sessions, which meant first flipping my sleep schedule from East Coast to West Coast time, and then going to bed even later. It was a difficult transition for the first few days! But after taking a lot of afternoon naps I had a great time. There are always a few campers at every session who love being up late at night. It began to feel like our own little community that thrives when most of camp has already gone to bed. There is also something uniquely silly about almost everything that happens past a certain hour of the evening. Once again, though, the most important part of the work is finding that set of campers who need that special late-night brand of nurturing.

One of the core pieces of camp for all senior staff is our nightly staff meetings. We start every meeting with a check in, devoting time to hearing about how everyone's day went, and how they're doing. We often laugh, but we also express the hard parts of being on staff, or of just being alive in this particular moment. It isn't uncommon or unexpected for someone to cry during check in, and it becomes clear right away that nurturing one another is a core value of camp. The check in sets the tone.
It's the same everyday as an advisor. Every advisory meeting, every day, does some form of check in, and much like in staff meeting, the full range of emotions are present and welcome.

In staff meeting, we follow our own check ins with time to talk about any concerns we have about campers. Often a staffer will have noticed that a particular camper seems to be having a hard time, and will be hoping that another staffer might have a stronger connection to that person and be able to offer them some nurturing. Sometimes it's as subtle as having a conversation, or pointing them in the direction of another camper who shares an interest. Sometimes it's more involved than that, and one or more staff members will spend many hours over the course of a session thinking about that camper's needs. And then that camper comes back the next year and is an absolute rockstar leader, or they never come back again. Either way, in every role I've ever played at NBTSC the main focus has always been nurturing relationships with amazing young unschoolers, and I wouldn't have it any other way.
From the time I showed up at NBTSC until now, 13 years later, I've always felt like the best part about NBTSC staff is not that they are incredibly accomplished, talented, interesting, good looking, funny, brilliant people. It's that we really care about one another, and we really care about the campers who come and experience along with us the wide open space that we call camp. 
About comments
We eagerly welcome thoughtful comments that add something helpful or pertinent to the topic at hand. Please imagine, as you write, that you are sitting in a cozy room speaking with the other human beings who are part of the discussion. We are glad you are here and we look forward to connecting with you!