NBTSC is not an ordinary youth camp. Every once in a while we have a misunderstanding with a parent who expected something different, or a camper arrives with needs we're not staffed to support. To ensure that we're all happily working together, we need you to look over the following expectations and details before signing up.  (We address most of this page to parents. But we also need campers to be on board. You'll see that they should read a few sections themselves.)
If you'd like to get a deeper feel for NBTSC culture, also see these optional-reading items:
Of course, contact us if you have questions or concerns you'd like to discuss before registering (or any other time).
Is NBTSC compatible with your child's needs?
We've occasionally found ourselves trying to support someone we aren't adequately staffed to support – most often a person with mental health needs, but occasionally other situations too. Please carefully read the information below and then make the best decision whether your child should register for camp this year.
In the three domains described below, there are grey areas. The truth is that we have hosted many campers who didn't fit these standards, and for the most part they were fine. (Or their parents even told us, "NBTSC is the best thing that ever happened to our little Johnny!") But even in some of these "fine" cases our staff was extremely overextended and neglected other important tasks in order to get to that fine, and we're hoping to make things smoother and more sustainable for all of us.
Please know that we won't be upset with you if you register your child in good faith and then it turns out they have unexpected difficulties. Once we're together, we're fully committed to doing our best by each camper, we absolutely want them to turn to us as needed, and we consider ourselves honored to show up and offer support to the best of our ability. We just want to be realistic at the outset about the levels of support that we are generally able to offer.
We ask that campers register this year only if you (and they) sincerely believe the following three statements are currently true. (If you have any doubt, please discuss thoroughly with your child – and contact us if you're still not sure.)
1. Their mental health is currently stable, and NBTSC is compatible with their mental health needs.
If your child has a serious mental health issue that is likely to need attention during camp, or that frequently needs professional attention, we may not be staffed to support them. We are not able to offer mental health services as part of our program.
Since NBTSC is a largely outdoor program, and buildings and facilities tend toward the rustic, we are not always a good choice for people with serious anxieties about insects, dark nights, or other realities of the outdoors.
If a camper has anxiety related to sensory differences, NBTSC may not be a good choice.
Noise: there is lots of peace and quiet at NBTSC, but there is also quite a bit of noise:
Mandatory (often indoor) meetings include applause, singing, loud laughter, etc.
Every morning there is a wakeup call – usually this means a small group of campers come into each cabin and tent area, singing more or less gently. Sometimes the music is more robust. Final morning wakeup calls have sometimes included bagpipes.
Lots of non-mandatory (but popular) events – both indoors and outdoors – involving yelling, loud laughter, amplified music, etc.
Dining areas are often loud – though often it's possible to take food outside or somewhere else quiet after getting food (in noisy dining area).
Artificial lighting: sometimes there is a mandatory meeting – or a non-mandatory but popular event – where the artificial lighting (fluorescent, etc.) is problematic for some individuals. We can often adapt lighting for sensitive individuals but not always in every situation – please contact us and we'll discuss.
Changing psych meds just before camp can lead to unexpected difficulties.
We'd vastly prefer campers arrive only with medications they are already accustomed to. If a change is unavoidable and their psychiatrist still feels that NBTSC is a good choice, we'd appreciate a letter from the psychiatrist with basic information for staff, including signs of trouble to watch for and an emergency phone number.
If a camper is currently suicidal, or has recently attempted suicide (such as within the past year), we are concerned that we may not be able to offer adequate support should they be triggered while at NBTSC.
Good chance you are aware of local support services, support groups, therapeutic resources, and mentorship programs in your area. (If not, please look into them!)
We would also suggest considering a camp for at-risk youth.
Please make sure your kids know about suicide hotlines:
Suicide hotline: 800-SUICIDE (784-2433)
Text hotline 741-741. (Teens can text from anywhere to talk with a crisis counselor.)
trans lifeline, 877-565-8860. (http://www.translifeline.org/)
Since at most of our sites phone (and cell phone) access is very limited, it's important that campers don't need to be in frequent or extended touch with family or friends in order to feel okay.
We definitely can hook them up in an emergency or an urgent situation, and we can also let them use our phone briefly once or twice just to say hello to their family if needed, but some campers have requested daily conversations with parents, or long chats with sweeties back home, and this just isn't usually feasible. (At Camp Myrtlewood, Verizon cell phones have had good reception for the past few years, so Oregon is a potential exception for folks with Verizon phones.)
2. They are able to take care of themselves and respect others.
Parents, please ask your child to read the following section (and read it yourself too, thanks).
Each camper should have at least one strong, close relationship with a parent or other adult.
We need to know that if you experience something seriously difficult, painful, or even traumatic at camp, you will get the support you need. We hope you'll feel comfortable coming to someone on staff, and we are often told that we are very approachable, welcoming, and supportive. But at the very least, we need to trust that if you don't talk openly with us, you'll tell us you have an urgent situation that requires phone use, and that you'll then contact someone else for support.
We need everyone to be able to respect others' boundaries.
This means many things, but none of them unusual – and we talk about consent and boundaries at the start of each session to be extra clear. It is essential that, especially when you are attracted to another person, you are committed to distinguishing between what you want and your ideas about what the other person wants.
We need everyone to care for their own boundaries.
There is lots of hugging (and other physical affection) at camp. We have a tradition that immediately after most (mandatory) community meetings, people exchange hugs. You never have to be hugged – we speak clearly about a simple signal to show that you don't want a hug. (Cross your arms in front of your chest.) But you need to be able to take responsibility for your boundaries in this way.
More generally speaking, also, the more you can speak up in support of your own boundaries, the better. (Preferably to any person violating your boundaries; if not then to a staffer; or at the very least by making a phone call to a supportive adult.) Because NBTSC intentionally extends a great deal of trust and freedom to youth, and is set up with less direct supervision and control than other youth camps and activities, we need to trust that everyone is working together to proactively care for their own and others' needs.
We need everyone to do their best to respect differences (of race, class, gender, etc.).
Sometimes people say or do things out of ignorance rather than intentional unkindness. Our basic approach at NBTSC is to learn together rather than to shame each other for mistakes. But, the more you know before camp about respecting others, the better. (Specifically? Thanks for asking. Google can help you learn a little about how not to be racist, classist, sexist, homophobic, transphobic, ableist, fatphobic, ageist, or anti-semitic. These specific things matter, and campers and staff have been hurt by jokes or careless comments in each of these areas. Maybe others too, sorry if we left anyone out.)
Ideally, all campers have some prior experience with peer pressure and standing their own ground.
We have usually heard that NBTSC is pretty low on the peer-pressuring spectrum. But sometimes individuals have felt some pressure to do certain things to fit in, and of course we hope that you are able to make your own authentic decisions regardless of what others do or say.
3. Their physical needs are compatible with our program.
We cannot support all dietary needs.
We are not able to accommodate severe allergies to trace amounts of most foods. We work around many allergies, and kitchen staff are careful about cross contamination, but trace amounts are beyond our control. When any campers/staff have known peanut allergies we exclude peanuts from our menu and tell campers not to bring snacks containing peanuts; still, we cannot be 100% positive there will be no trace of peanuts on site.
We cannot accommodate campers who need to prepare their own meals in our busy kitchen. (We do provide a microwave and/or toaster oven for camper use at some sessions.)
We can't accommodate campers who need routine access to medical facilities.
We don't have medical facilities on site and aren't staffed to provide regular transportation to clinics or hospitals, etc.
In Oregon, we sometimes experience periods of poor (smoky) air quality. 
Unfortunately, like in many other locations throughout the Northwest and the West in general, sometimes we get smoke from regional wildfires. The only time we've experienced noteworthy smoke at Camp Myrtlewood was in 2017, but of course we can't predict the future. If you have a health condition (such as asthma) which is exacerbated by poor air quality, please take this into consideration.
If you feel at all uncertain about any of the above areas, or if your child is a new or a younger camper (especially if they've never been away from home or family for a week), you need a departure plan.
You and your child need to agree that if they find themselves overwhelmed or extremely homesick and want to leave camp, you will support them in doing so. (When staff are made aware of homesickness, anxiety, etc., there's a lot we can do to offer support. And, typically, if a camper who is struggling sticks it out for a couple nights, they end up feeling more comfortable and often decide to remain at camp for the duration – but, occasionally a camper does opt to leave.)
Is NBTSC a good fit for your child?
Sometimes, even when an individual doesn't have needs that we're not able to meet, NBTSC just may not be the perfect fit.
NBTSC may not be a good choice for..
People who have little or no experience with personal growth or group bonding activities, and are wary of trying new things in these realms.
Someone commented a while back that some of our evening activities are "weird" and "cult-like," and that we should make that more clear on our website. So, here goes.
Evening activities vulnerable to accusations of cultiness are bonding night, seeing/seen circle, and perhaps the closing ceremony. (Other activities come and go, some of which are similar in quality, but those 3 are mainstays.) These events are many campers' favorite things about NBTSC – and that goes for lots of people who initially found them strange and intimidating. None of these bizarre activities are required, but most people participate in all of them.
Bonding night consists largely of an activity where half the participants spread themselves throughout the room, standing, and close their eyes; the remaining half move slowly through the room giving anonymous hugs. We talk beforehand about what to do if one gets overwhelmed, about being sensitive and respectful, and such. Many people say their view of humanity and of their own place within it is changed, for the better, the first time they do this activity. Most campers and staff love it. A few, of course, are put off by it. Again – nobody has to participate. This activity was initiated by a camper many years ago and, due to popular demand, it stuck around. We believe it originally came from a Unitarian gathering.
Seeing Seen Circle includes two main parts. First, everyone stands in a circle together and listens to a series of statements (which have been updated for the current camp session by a committee of campers with a staff mentor). After each statement, if a person identifies with the statement and wants to "say so" in front of the group, he walks into the center of the circle. We stress that this is not an "honesty" exercise, and that even if a statement rings true, one should only walk into the center if she feels there is some benefit for her in doing so. (Sample statements: "Crying in front of others scares me." "I have accomplished something in the past year that I'm proud of." "I have been physically violent towards another person." "My parents are divorced." "I am not sure of my gender identity.") In Part Two, individuals have the option to speak in front of a group about their own lives and feelings. For many, Seeing Seen Circle is a powerful experience of letting go of shame, of feeling empathy, of sharing emotions with others. For some people it is just a little too much. We don't push anybody to go.
Closing ceremony will sound tame after those last two, but here you go: we sit in a big circle. Everybody, in turn, speaks an intention for the coming year. ("I will start a band with my brothers." "I will become more honest with my parents.") Then we have the "hug circle," a carefully choreographed event wherein every single person has the opportunity to hug every other person, usually while singing a lovely Sufi song, "All I ask of you." One can also go through the hug circle simply making eye contact. Or not go through the hug circle (or participate in the intention circle) at all.
Younger teenagers.
If your kids are young, don't have older siblings, and simply haven't had much exposure to older teenage culture, NBTSC might be a bit of a shock for them. On the other hand, younger campers often clump together and create their own sub-community…. and older campers tend to look out for them. We typically have a lot of happy 13- and 14-year olds, but it depends on the kid and the environment they're used to. For some, it might be best to wait a year or two. (We no longer accept 12-year-olds except in rare circumstances, since a high percentage have had difficulty at NBTSC, even after they and their parents articulately and convincingly proclaimed their readiness.)
It can help, of course, to have older friends or siblings at camp, provided these relationships are healthy and supportive.
In the past, when we routinely took special applications from 12-year-olds, we sent out some general thoughts to their parents. We think some of it is relevant for many 13- and 14-year-olds (and undoubtedly some older teenagers also):
Please specifically consider your child's readiness to make healthy choices regarding his or her romantic or sexual feelings toward others, and—especially—his or her ability to make healthy choices regarding the interest others may have in her. Especially when young girls look older than they are, older boys may be attracted to them. We're not trying to alarm you, and it's not that anything "bad" has happened in this department to our knowledge, but we do want you to consider how vulnerable your kid/s are. (It surprises us that this possibility often doesn't seem to have occurred to parents when they ask us if their 12-year-olds can attend.) If they have an older sibling (or a trustworthy older friend) attending, that helps. If they already have some experience talking with people who are attracted to them, that helps. Of course, if they are in fact a mature individual in the sense that they are not easily pressured or confused by what others want, that helps more than anything else. We suggest that as a family you do some role playing to help build awareness and communication skills.
Now, it's not that any campers—age 12 or age 17—are left to completely fend for themselves. We watch out for everyone. Campers watch out for each other. We proactively offer support to anyone who seems to be struggling with anything. But the younger a camper is, the more these things may be challenging. And, we don't want to accept a younger camper and then discover that he or she requires an extreme amount of support.
You may want to talk with your child, prior to camp, about what he can do at camp if he should find himself in a challenging situation.
Kids accustomed to externally-imposed structure, and not to lots of freedom.
By this we mean teenagers who aren't accustomed to taking responsibility for the way they use their time. (Generally speaking, this may apply more to younger teenagers.) At NBTSC, very little is required beyond two group meetings each day. Pretty much everything else, from bedtimes to whether to attend meals to what daytime activities to engage, is up to the individual. For most people this is one of the best aspects of camp. For some, it may be anxiety-producing and overwhelming. We're willing to work with you, and if you can help educate us about your child's needs and what we can do to support them, we'll do what we can. Sometimes an older sibling can be a grounding force.
Emotionally unstable teenagers.
(A bit overlapping with the section on mental health above, but… even when a camper has no known mental health issues, it's good to consider their current level of emotional stability.)
Kids who have traumatic histories usually do very well at NBTSC, but occasionally we've wished that the parent (and perhaps camper) knew ahead of time a little more about NBTSC and could have either warned us about particular needs, or chosen to not send the kid to camp. NBTSC can be emotionally intense! Here's why: 1) It's a weeklong gathering of 100 or so teenagers who naturally form close bonds, and often experience attraction, rejection, jealousy, and many other uncomfortable emotions. 2) We don't enforce bedtimes, and some campers choose not to get a lot of sleep, and that adds to any instability that's already there. 3) Like in any other camp situation, people are away from home and in an unfamiliar environment, and 4) Some activities led by both campers and staff tend toward the realm of personal growth or therapeutic. In some workshops and other events, campers are invited to stretch themselves emotionally, reveal aspects of themselves they are normally secretive about, etc. Many people feel that these moments are among the best parts of camp. Occasionally, however, someone is overwhelmed by these experiences or their aftermath. If you're wondering whether this aspect of camp would pose a problem for you (or your kid), please contact us.
People who don't want to be there.
We actually state this as an agreement, and not to be cute or clever. ("Come to NBTSC only if you want to, not just because your parents or friends think you should.") This is, perhaps, our most important agreement. When people attend camp because their parents have pressured them to do so (or even merely because all their friends go), they typically come less ready to contribute and to benefit from camp, and that's not good for them or for us. It also helps if people come willing to proactively address aspects of camp that are not comfortable for them. For instance, if someone feels isolated due to her religious practices, political beliefs, appearance, interests, personality, or anything else, it's helpful if she's willing (with the help of a staff person, if wanted) to start a discussion, or a lunch group, or another form of solidarity and support, for herself and other people who might be feeling the same way.
People with secret tobacco addictions. Parents, if you think there might be even a remote possibility that your child uses tobacco, please make sure they carefully read this section (and consider your own willingness to sign off on tobacco use).
We require parental permission to use tobacco (in any form), and also to simply hang out in the designated smoking location.
Yes, we have reservations about this policy. We realize that teenagers often keep aspects of their lives hidden from their parents. We are all for people having a right to privacy, and to having a significant amount of control over their lives, regardless of age. We ourselves made choices and did things as teenagers that our (unspeakably wonderful) parents had not the slightest clue about, and for the most part we don't regret those activities, nor do we think anything would have been improved if our parents had known about them.
Yet, during the years (long ago) that we didn't regulate the smoking situation at NBTSC, it degraded to the point that we couldn't in good conscience continue to allow smoking by people whose parents didn't give permission. Your options, as we see them, are:
Tell your parents you smoke.
Quit smoking prior to camp. (Don't count on being able to quit at camp–that's unrealistic for most people.)
Cut back to the point that you can go a whole week without, though that's pretty much the same as quitting.
Use a nicotine patch or another method of getting yourself through the night.
Don't plan on bumming cigarettes off your friends or smoking in secret. Even if you don't get caught – but good chance you will; it's happened before – trust us, you don't want to create that kind of relationship with NBTSC staff.
In Vermont ~ people with tobacco addictions (even if parents are aware).
Farm and Wilderness has a strict no-tobacco policy. During daylight hours a camper can walk half a mile to the edge of their property for a cigarette, but our night time boundaries do not extend that far, and we don't make exceptions for smokers. Sorry.
People with current, active, uncontrollable addictions to illegal drugs.
We cannot and do not want to have illegal drugs (including alcohol) at camp. Campers are not welcome if they bring pot or other illegal substances. There's a good chance they'll get sent home if they bring or use illegal substances while at NBTSC.
What parents should know about NBTSC
The vast majority of feedback we get from parents is glowingly positive, and we do our work in the hope that it contributes to the health and happiness not only of our campers, but also of their relationships with the families that they return to. But some of the things we do may not be consistent with what you want for your family. We have had an occasional parent upset to find out later that their kid participated in certain discussions or activities, so here are a few things to know:
Like other teenagers, many campers are interested in learning about sexuality and gender identity.
Some initiate workshops and discussions on various aspects of relationships, sexuality, sexual orientation, and gender identity. Most of these are serious in nature; a few are silly. It is not our policy to censor any of these. Sometimes staff attends and participates in discussions, adding an adult leadership dimension. Other times, campers prefer to talk amongst themselves without adults present. We honor their preferences.
Staff also offers workshops or panel discussions related to sexuality.
At the start of each session, a mandatory presentation (approximately 1 hour) on consent, understanding and respecting one's own and others' boundaries, and sexual assault.
A "healthy sexuality" panel at most sessions, where individual staff shares on topics like "what I wish I could go back and tell my 15-year-old self" and addresses questions.
Occasional workshops (like a workshop on women's sexuality and body image, with an empowering, feminist slant).
(We do not, as a camp, endorse any particular expression of sexuality; nor do we encourage campers to seek out sexual experiences with other people. We also have a clear and firm expectation that campers not have sex while at camp, and we stay in dialogue about this issue with the group as a whole and with individual campers who get into intense-looking romances during camp. We promote an overall atmosphere that is group-oriented, affectionate, uplifting, and wholesome.)
Of course, there is a wide continuum of parental stances on sexuality and other controversial issues. If you fall way at the conservative end of the spectrum then we imagine NBTSC is probably not the best fit for your family. If you fall somewhere in the big fat middle, though, you may want to send your kids to camp but have a few heart-to-hearts on subjects important to you beforehand.
A 2016 parent suggested that we frontload the information that at some sessions, there are more overtly LGBTQ youth than one might encounter in daily life - especially in more conservative geographical areas.
There are open discussions on the topics of sexual orientation and gender identity, and we invite each person to share their preferred pronoun (she, he, they, etc.) so that we may all better respect one another. Knowing this ahead of time can allow for any helpful family conversations (including how to be respectful toward people in marginalized groups).
Campers may change their cabin preferences once at camp.
Occasionally campers change their minds at camp regarding which type of cabin they feel most comfortable in. (For example, they might have signed up for a girls' cabin, and then decide at camp that they prefer an all- gender cabin.) Aside from our attempt to not house campers together when they are romantically involved, our policy is to respect campers' choices regarding cabins (and not to consult parents before making changes). 
NBTSC allows for significant freedom regarding bedtimes & sleeping arrangements.
We are always carefully considering and reconsidering our policies, and at least for now, this is where we continue to stand:
We do not normally enforce a bedtime at camp. We require lights out/quiet in cabins from approximately midnight to 8 a.m., and close most public buildings between midnight and 2 a.m., but some people stay up talking at a campfire circle or elsewhere.
We do ask each camper to write a policy that they will use to decide when to go to bed each night, based on what they understand about themselves and what is important to them. Overall this program, while a bit cumbersome, has been effective and received good reviews from campers. We do this because while we don't want to unnecessarily limit freedom, we do want campers to take good care of themselves and get enough sleep. And, we want to encourage participation in daytime workshops and activities. We find that campers who are intentional about setting camp goals (and about getting enough sleep to support those goals) generally feel good at the end of the session about the way they have used their time. We don't breathe down campers' necks about this (or much of anything else) and those who want to can certainly "get away with" writing a halfhearted policy and then proceeding to ignore it anyway, but we recommend that campers take the process seriously and use it to help shape their camp experience the way they truly want to.
Also, we do not generally require campers to sleep in their assigned beds. (We do ask them to stay out of others' cabins.) Most campers sleep in their own beds most of the time. Some campers, however, sleep in mixed-gender (sometimes affectionate and cuddly) groups in public spaces or outside. While we firmly expect campers to observe our "no sex at camp" and "no nudity" rules (and initiate plenty of dialogue when that seems called for), we do not supervise these groups except to poke our heads in from time to time and say hello if everybody's still awake. Our observation (borne out by many candid reports from individual campers) is that while occasionally there is some mildly sexual behavior, by and large these "people piles" are innocent. We feel that while they do help make it possible for people to bend the rules, there are other ways to bend the rules if individuals are determined to do so, and that to tighten our policy would be more of a detriment than a benefit to camp and campers.
We thought you might be interested in this comment from a camper who at the time was in a long-distance relationship with someone she had met at camp several years prior. (Forest Dell is a building in Oregon which we usually make available as a group sleeping space.) "Thank you for Forest Dell! Being able to sleep with my partner greatly improved my attitude for the week. Having a social, not private, place to sleep as a couple is really cool but also feels respectful of camp agreements. The lack of privacy keeps us well behaved."
Because we know that some campers may not be ready to make their own healthiest choices about sleeping (and other) matters, and because you know your kids better than we do, we suggest that you talk about these subjects as a family, and perhaps clarify your own expectations or agreements independently of camp rules and policies. In other words, we do stand behind the rules that we set, and take reasonable steps to ensure that they are followed, but we cannot be responsible for making sure that your kids behave the way that you think is best for them.
In the past, we sometimes swung to different sides of the pendulum–tightening things up at parents' requests, then seeing (and hearing from campers) that we've caused more harm than good, preventing innocent affection more than anything else, and swinging back to a looser stance. We now try to strike a better balance by asking parents to get involved by having your own family discussions. In our handbook –provided in the spring to all registered campers—we include examples of successful previous bedtime policies.
Our experience has always been that most campers are extremely mature: cooperative; beyond the need to rebel for rebellion's sake; kind and empathetic to staff as well as to each other. When we update our policies, it is with this kind of maturity in mind. In the event that we ever find ourselves with a different quality of camp community, we will need to shift the way we do things. We are committed to creating the best possible balance of freedom and care-taking, given the particular group of human beings that we find ourselves serving.
We trust campers to communicate with their parents as necessary.
We assume that (except possibly in extreme or unusual circumstances) when they experience emotional difficulty they can and should decide for themselves whether and how to share with their parents. We do not as a matter of course contact parents to share this type of information.
Finally, on a rather different note, we want parents to be prepared for their kids to get sent home if they break agreements repeatedly or in any way that the staff deems serious or likely to undermine others' camp experience.
Bringing or using illegal drugs, having sex with another person at camp, abusing another person physically or verbally, or lying to staff about their own involvement in such activities are a few possible roads to being asked to leave. The people who do such things at camp are a tiny minority, but their activities erode morale for everyone. We look at each situation individually, and make a great effort not to shame anyone, but it is also important to us to protect the NBTSC environment, as well as our own peace and happiness. (We tend to resent having to spend a lot of our time tracking down 1 or 2 people who are breaking serious agreements, and thus not having time to do the jobs we have prepared for, and looked forward to, all year.) Thanks for reading this paragraph and we're sorry to have to include that sour little note here!
Some of our workshops, projects, and evening activities tend toward the realm of personal growth and even somewhat therapeutic processes.
Staff may offer optional workshops or longer multi-day projects on emotional intimacy, meditation, peer counseling, suicide prevention, learning to love and accept oneself, etc. At some sessions, we offer personal growth activities in which people share intimate details about their lives if they choose to. These are not mandatory, but most campers participate.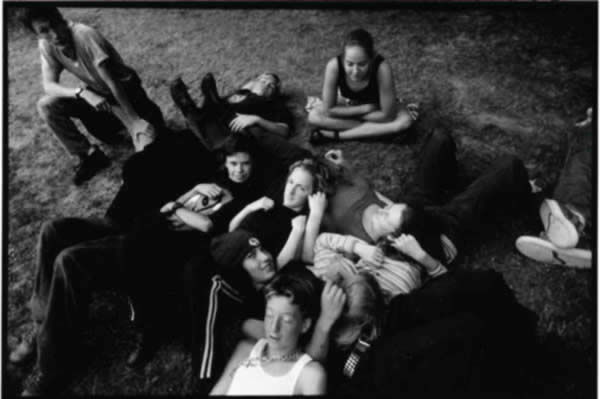 Thank you for reading the fine print!