August 5, 2018 (Day 5, Oregon Session 1 at Camp Latgawa)
by camper Lena Mackay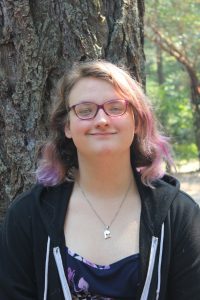 Ten minutes.
It's been ten minutes since I went all in, $750 with absolutely nothing in my hand.
The player to my left folded immediately. The player to his left folded even faster. Now it's just me and the dealer, Matt Sanderson. He's been trying to decide whether to call my bluff for almost 10 minutes, so he set himself a 1-minute timer. If that timer runs out, he folds automatically. There are 10 seconds left.
But the day didn't start quite there.
I woke up on Day 5 feeling extra rested, mostly thanks to the extra hour wakeup call got pushed back today. Everyone floods the dining hall in a sleepy daze, partially due to the extra sleep, and partially recovering from Seeing and Seen circle from the night before. A nice breakfast of "Potatoes and Stuff" gets us all ready for the morning meeting ahead of us.
The meeting was a fairly relaxed one – with a song from Joel and a quote from Grace we were on our way to our advisee groups. Today I'm with Grace, as always, and its a fairly chill affair, featuring a breezy check in from all the campers and a beautiful performance of "Over the Misty Mountains" by my campmate Zion.
Then came the first of many weddings to happen today. Declan and Joe, in a beautiful ceremony performed by Sam K, followed by a beautiful procession outdoors with plenty of pictures. Another couple campers got married right then and there as well, and then the weddings were over. For now.
After a tasty lunch of "Rabbit Food" (I swear these are the things they write on the board) and a nice chill siesta, we had a 2 hour long pool time, with pool games run by the beloved Evan. During the next set of workshop slots, sadly, the smoke blew in awfully. Visibility was reduced a fair amount, there was a red sun up in the sky, and suddenly everyone had a facemask to wear.
Most people stayed in the dining hall for dinner, but the other Creation Circle members and I needed to meet, so we braved the smoke outside with our turkey dinners to discuss plans for the evening's event we were running, Casino Night (or "Casion" night, if you were to look on the schedule). After a fairly thorough planning session we headed to evening meeting, hosted tonight in Uncle Joe's,  so we could be indoors and away from the smoke. We got some fairly important announcements, mostly regarding smoke safety, and about the cancellation of nighttime swimming due to smoke, and then we dispersed, Creation Circle members rushing to go set up for Casino night.
After some delays and a speedy setup, we opened our doors to the camp community. They had the choice between 4 house tables: Blackjack, Texas Hold 'Em Poker, Roulette, and Acey Deucey. All the money was fake and provided at the tables, but should you win big, you could bring your winnings over to where I was, the prize table! After an hour and a half of games and prizes, we cleared the floor for a small dance party, but the poker game continued on anyway.
That's how we get to our opening scenario. As soon as I could get off the prizes table I headed for the poker table. It was fairly basic, most people knew how to play, and those that didn't picked it up quickly enough.
After some bluffs, and some fairly lucky hands, I had managed to build my start of $200 into $750. Matt had been cleaning up all night before I got there, but I'd managed to bring him down to my level. I was wholly determined to take him out of the game and take a major lead.
So here we are. 10 seconds on the clock, over $1,000 in the pot, nothing in my hand, Matt to make a decision.
He calls my bluff.
Game over.
_____________
and a few random Day 5 pics: