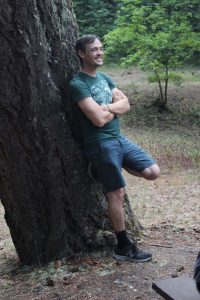 August 8, 2018 (Departure Day, Oregon Session 1 at Camp Latgawa)
written by staffer Nathen Lester
We are up early on departure day for a last breakfast, last set of logistical announcements, last songs. Campers are dragging luggage and hugging, smiling and crying, bleary eyed.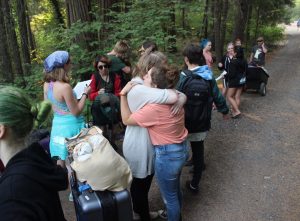 Parents arrive and want to know, "Was it a good session of camp?" Yes, it was. Very good. Thank you for loaning us your amazing teenagers. I hope to see you again next year.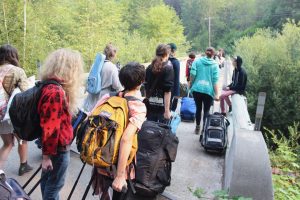 The staff remains at Camp Latgawa for a final meeting, debriefing the session, closing open loops, closing with each other. We are tired and sad to leave each other, but feeling connected, grateful, and proud of the community we once again succeeded in helping create.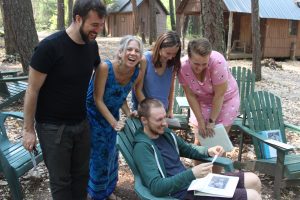 One last jump in the pool and we head back towards civilization.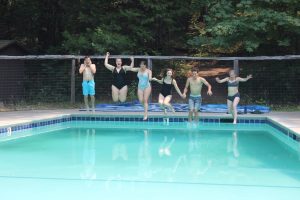 Civilization is hard to look at after our week in the woods. The Rogue River Valley is thick with smoke from the many wildfires still burning, and the smoke remains thick as we drive north almost all the way to Eugene. We got an extra good, long look at it from the side of the highway when we overheated on a grade and pulled over, smoke pouring from the engine compartment from a cracked CV boot.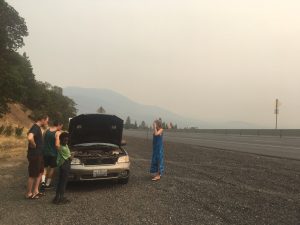 A group of staff stays at the house of the beloved founder of NBTSC, Grace Llewellyn, in Eugene for some time after camp, and we celebrate with dinner at Pizza Research Institute and ice cream at Vanilla Jill's. It's a lovely end to a lovely, if smoky, week of camp.