Written by camper Kestral
Day two of Not Back To School Camp was a blur of activity,  adventure, and amazingness. I woke up, stumbled into my clothes, and made my way downstairs from the sleeping room in the farmhouse to the main room. Few people get up early and those who did were scattered in clumps, laughing and awake. Not to say that some of us aren't living zombies due to lack of sleep, but being well rested is a common goal that we strive towards at camp.
My worktrade in the kitchen began at 9:15am and I spent the fifteen minutes before it having a complex and lengthy discussion on sharks. I spent some time serving breakfast as my worktrade while music played in the kitchen and conversations buzzed quietly.  A little while after breakfast we all sat down on the floor for morning meeting. We sang, we listened and (of course) we laughed. Matt (our director) told us a visitor was coming to briefly participate and lead a workshop. Arthur, a jr. staff member rang the "bell" (a large metal xylophone hit by hammers) for advisee groups and everyone dispersed to locate and join their group.
In advisee time we meet with a group of other campers and a staff member and talk about how we're doing at camp so far. We also play lots of games to get to know each other. Yesterday we played Mindmeld- a difficult game where two people have to take two random words and both say the same word out loud at the same time. After advisee we went to projects.  Projects are a block of time when a staffer gives a workshop on a topic. I chose to participate in Brenna's project: How To Survive the Apocalypse. We built and lit fires with flint and steel and purified water from the lake through various methods. By the end we all had charcoal on our hands and some of us (me included) even made lines under our eyes with the dark dusty charcoal. Our hair smelled like smoke and the other campers way up in the dance barn could smell the fire too.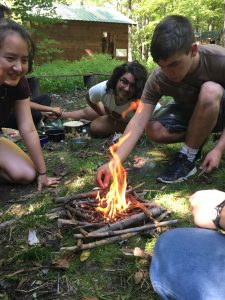 After we came back from projects we ate a delicious lunch of sesame noodles and tofu. Siesta followed lunch and all was quiet for 55 minutes until workshops began with a ring of the xylophone from Arthur. Some of the workshops included swimming in the lake, how to be famous on instagram, learning to juggle and many more. After a staff panel on healthy sexuality, dinner came and I served food, then joined a group game that happened in the living room. We all cleaned the tables and mopped the floors, and once proper order was restored, community meeting began. The junior staff led us in songs and announcements. After that, we all hung out outside until bonding night was prepared.  We sang and did a circle dance into the main farmhouse and then bonding night began. We were paired with strangers and held eye contact for 15-45 seconds. That was followed by answering questions about ourselves. What is love to you? What is home?  We split into two groups and one group closed their eyes and spread out and the other group filtered through and hugged us. We finished with a deep breath.
The rest of the evening flew by with laughter and cuddle piles, bringing day 3 of Not Back To School Camp to a perfect end.