August 31, 2018 (Day 10, Oregon Session 2 at Camp Myrtlewood)
Our evening event on Day 10 was "Senior Staff Choice." Here our Kitchen Coordinator Franny breaks down what we decided to do and a bit of how it worked [transcribed from audio]:
Chopped was a cooking competition. It involved our final-year campers cooking (in teams) from a box of mystery ingredients that had been chosen by the rest of camp. There were also judges and commentators. It was amazing. The mystery ingredients were tahini, lemon juice, balsamic vinegar, and carrots or beets. (All the teams chose beets from the "carrots or beets" option, which we all thought was weird.)
Opening the secret ingredients (photo by Skye P.)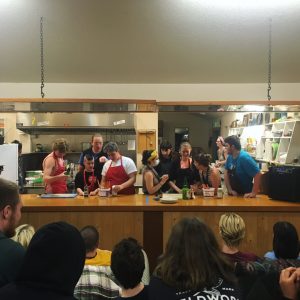 photo by Margie Sanderson
The teams not only finished their dishes in the 30 minutes they were allotted – which I did not see coming – but also actually produced edible food. One team made a cookie and a beet balsamic caramelized compote thing, and the other team made chocolate beet crumble that had a hazelnut-oat topping. I also made something! I made an apple carrot crisp using all the mystery ingredients, which was then served to everyone for snack.
The judges ~ photo by Skye P. 
I had been thinking about doing something like this for a while, but then on the day of the event I was thinking it was going to be super stressful and chaotic and maybe not actually that fun to watch. It turned out to be super fun, and everyone seemed really into it – especially the people competing. It was organized chaos, not stressful chaos.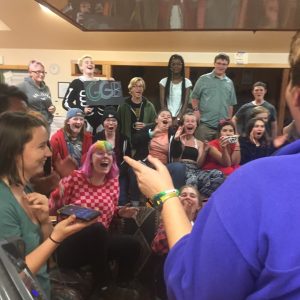 Audience reactions ~ guest judge Jack is called in! Photo by Margie Sanderson