August 27 (Day 6, Oregon Session 2 at Camp Myrtlewood)
Day 6 was an action-packed final day for our 1-week-only campers. About half of the camp community started the morning by getting on a bus headed to the Oregon coast, while the rest stayed back to enjoy adventures around Camp Myrtlewood. At the coast, caves were explored, sandcastles were built, and wading adventures abounded. Back at camp there was a creek walk adventure, log rolling service project, and time for long conversations with good friends. Field trip attendees were back to camp in time for a delicious dinner followed by our evening event, The Concert. Here, camper Sayali gives us the scoop on their concert experience [transcribed from audio]:
The concert is an evening event that is specifically for musicians who write their own music, which there are typically a lot of at camp. This can mean  singing an original song or playing an original composition on the piano – you can perform with or without instruments or singing. Typically it's a combination of both but, you know, there are people like Erich who just played guitar and it was fabulous.
This year was my first year being in the concert and it was really nerve-wracking but also really fun and I'm really really glad I did it. I'm really glad that I got to share my music, especially the first song I did. That song was called "For Zero" – Zero was my best friend and he took his own life in April. That song means a lot to me and I've never shared it with anyone outside of his friend and immediate family circle, just because it didn't feel right until now.
The second song I shared doesn't have a name but it's something I wrote for camp. I'm also really glad I got to share that one, because I wrote it at camp – something I've never done before, so it was a new and joyful experience.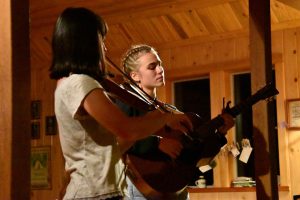 Lela and Rainy in the concert ~ photo by Skye P.