Waking up on the first full day of camp is always exciting. What's ahead? How did Arrival Day go? Those two things are bound together whether one is a Camper of a Staffer. As the Driver and a member of the logistics team, Arrival Day is very busy, and how it played out can obviously bleed over into how Day 1 starts out. This year it went great: no issues with incoming camper health-screening at my post, Monroe Park, and only two late flights: a returning camper and Maya, a staffer (and former camper from the 20th century sessions!) with her son Olli. And we only missed the very beginning of Opening Ceremony! So, I woke up rested and happy to have Arrival Day behind us and Day 1 ahead.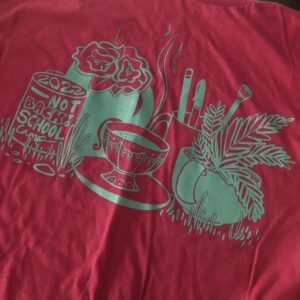 What's ahead today is a lot of different ways of getting to know each other. But for me, first there is morning meditation, tea, breakfast. And then the struggle to pull out of my name-challenged brain all the returning camper's names after the last three years of changing and living life that have evolved the image I previously associated with that name. Oh, and maybe the name has evolved too! Of course, there is all the wonderfully new campers whose name and form also now need to be slowly assimilated. A daunting but delightful task.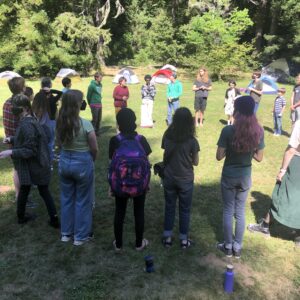 There are specific activities today to facilitate connection, camp-wide like Blake & Milla's icebreaker games and Andy's Intro Circle and Speed-dating game, and the smaller activities like advisee time. I tend to learn names more with 1:1 personal connection and small group activities, so my bathroom superhero team works better for me than things like speed dating. It's a challenge for me but if I have everyone down by the end of the first week, I feel pretty amazing.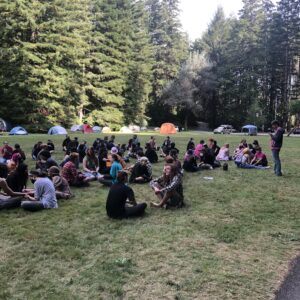 Day 1 is also when we try to help campers get to know staff better with our Staff Introductions and Talent Show. I'm nervous even with the well-known and oft-played song I have chosen this year and sneak off to the creek during a break to run through it. I still fluff my lines and chords but cover pretty well so I'm satisfied. The staff at camp are always so amazingly talented. We had a celebrity video from Vick, Dandy storytelling, the camp favorite song "Any Way the Wind Blows" from Andy, an ukulele original from Kieran, dance from Milla and Blake, gymnastics from Bet, and our resident rock star Prince Bird closing out the set. Not to mention Sydney's impressive MC'ing skills. In my decade at Camp Myrtlewood, I have never had the privilege and pleasure of seeing our founder Grace dance. But this was the year to see her amazing improvisational belly dancing. Checkity Check Check!!!1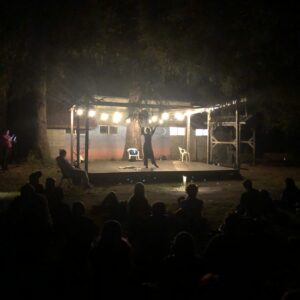 1 Obscure camp reference. Bonus points if you get it.