On day 2, I woke up in the field. This made rather a lot of sense, since I went to sleep in the field on day 1. It is still always a bit magical to open your eyes and only see sky, however, and I took advantage of the fact that the light from said sky had woken me up well before wake up call to enjoy lying there in the middle of everything for a while. It was surprisingly dry, considering I was lying on the ground in what is usually a very dewy field. I must have gotten lucky about the weather overnight.
The pre-wake-up call wake-up also gave me the time to meander through finding clothes and making my way to the lodge, with enough left to spare to play some ukulele on the porch before acquiring my breakfast potatoes. And perhaps I lingered over those very delicious potatoes a little longer than would have been optimal for getting to my after-breakfast superhero on time, but hey, I got there! And I had had a lovely morning by that time.
After community meeting and advisee time we had our first workshop slot of the session! I went on a nature walk, following a small trail that I had somehow never gone on! It was lovely, a bit of up and down hills but not so much that my not-accustomed-to-hiking self sat down halfway through and swore never to hike again. Which has happened in the past, I assure you.
During siesta, I set up this year's Fairy Godparent game, getting the bowl out for people to put their names in to join. Once that bit of drawing and organizing was over, I went outside with the intention to perhaps sit alone and rest a bit, only to be drawn into an extremely fun game of Silent Pass-The-Ball (which name I have just now made up). It had to be silent, you see, because it was siesta, and we didn't want to disturb those who were resting. The laugher when someone accidentally made a noise definitely did not count.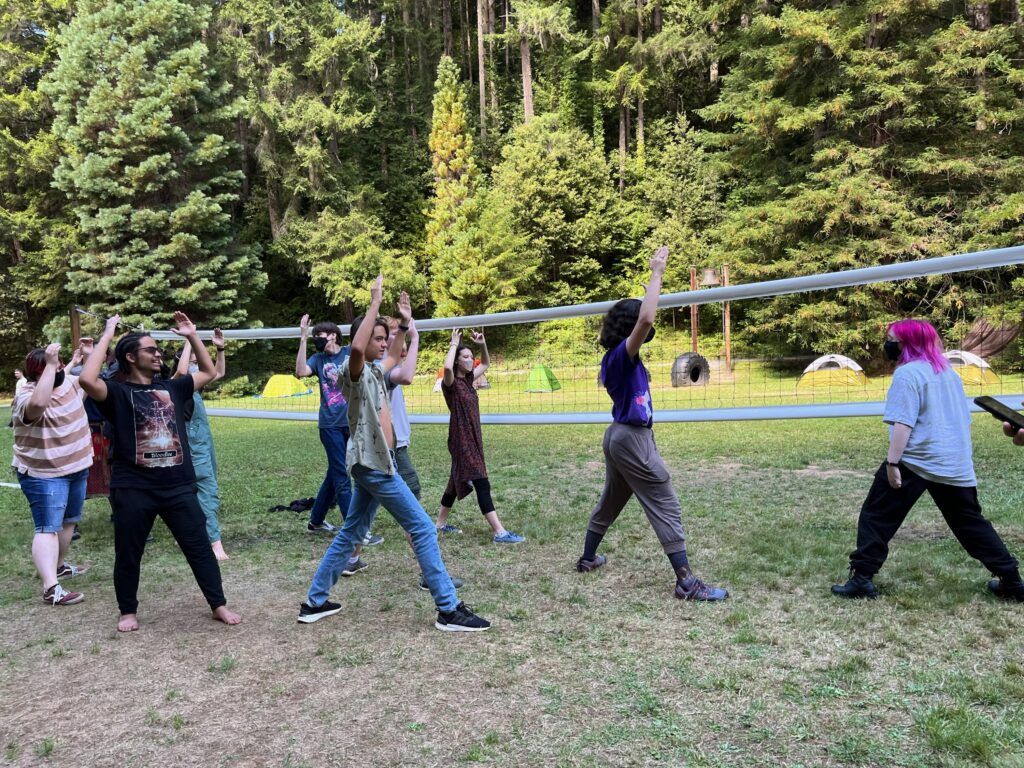 Somehow, Silent Pass-The-Ball morphed into a game of Ninja, which ended up with a whole crowd of us copying every move of one of the final players. This led to more laughter, but it was fine, because siesta was over at that point and we were about to move on to hoopstick! There were many good hoopstick players, many an excellent pass, oodles of wonderful sticks. Everyone caught on very quickly, and we had a great time.
I ended up choosing not to go to a workshop in the final slot of the day, instead sitting quietly with some friends and just relaxing until the new panel, How To Get The Most Out Of NBTSC! This was an especially exciting panel for me, because I was invited to be on it! We spent around an hour talking about ideas for how to make camp work the best way for you. It was interesting to hear everyone's thoughts, especially since the panelists had similar but different approaches to camp. I think the variety of perspectives was a good way to make sure lots of different people got advice that would hopefully work for them personally.
Finally, after dinner and evening meeting, there was the first camper talent show!! There was a huge variety of incredibly impressive acts, from music to poetry to acting to acrobatics. I performed myself, and it was a wonderful experience. I really love showing things to people at camp; they're just so supportive and encouraging.
I ended the day later than any before, after some more lovely time simply sitting and talking to people. I crawled into my sleeping bag on a night that was much colder than the previous one, prepared to rest well yet again, and be awake and ready for what I expect to be a wonderful day 3!