Oregon Session 2 at Camp Myrtlewood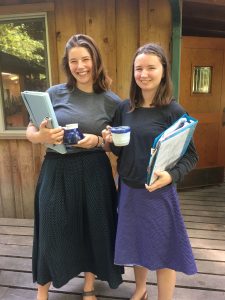 Written by staffer Margie Sanderson
Photo: staffers Rachel (left) and Margie (right) on Twin Day  
It's been another fabulous few weeks of NBTSC! This year we piloted a 1-week option (as well as the usual 2-week experience) at our Camp Myrtlewood session. With a big group of campers and a wonderful staff, the session was destined for greatness from the start.
After Arrival Day and a day of settling in and laying the foundation for our time together, things really got rolling on Day Two. The first workshop choices ranged from veggie fermenting to taekwondo board breaking. (I went to that one–it was amazing!!!)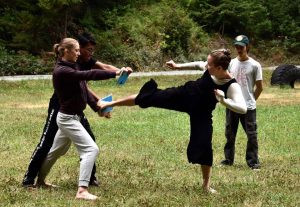 photo of Emily's board-breaking workshop by Skye P.
The Day 2 evening event was Bonding Night, an event focused on connection and hugs, and that many people feel really gets camp started. I went to sleep that night feeling finally settled into the rhythm of being at camp.
The next day projects began! At this session there were three staff-led projects. One was a forest-floor makers circle led by June, where campers learned how to make things from what was around them, ranging from necklaces and wood carvings to essential oils, applesauces, and berry syrup. Meanwhile, Christian led a Game Theory project that opened up a whole new dimension of thinking about games. Last but certainly not least, Andy led a project on communication–covering both how to strike up day-to-day, meaningful conversations with people you want to talk to as well as public speaking and rehearsed, persuasive communications. Though I didn't personally participate in a project, I enjoyed seeing the way all of these projects influenced the culture of the camp session. I had some great conversations with participants in Andy's project, saw some beautiful creations from folks in June's, and was ruthlessly crushed at some competitive strategy games by Christian's minions (excuse me–project participants).
Before the first week of camp was over and the 1-weekers departed, we got to go on the Oregon coast field trip which I always enjoy. This year I spent some time exploring caves and walking the beach like I usually do, but I also enjoyed joining forces with some campers in the creation of Sandville–which ended up taking the majority of my beach time. Sandville was a fabulous sand castle/hole/moat/town on the beautiful Face Rock Scenic Viewpoint beach. After handbuilding with dedication and care, Sandville's trusted creators exerted much effort attempting to save the town from the impending changing of the tide. Unfortunately, our efforts were unsuccessful, and Sandville was washed away. Alas.
The next morning I woke up early to assist with the departure logistics for 1-week campers. It was super sad to feel like we were losing some of our camp community early, but I also felt happy that those campers had been able to at least join us for a week.  The sadness of saying goodbye part way through was outweighed by the happiness of having had these folks as part of our community. Later that day was also the Seeing Seen Circle, which is an evening event focused on personal vulnerability and sharing. Overall, those two bookends gave the day a quiet and mellow vibe for me.
Luckily, the following day was a rest day! After sleeping in and getting a slower start to the morning, it felt to me like energy picked back up throughout camp. In my advisee group that day we helped the kitchen staff make Jammies (jam filled muffins) as a camp-wide snack, which felt like a fun and easy way to serve our whole community. Then, after lunch, there was Cabin Cleanup. Cabin Cleanup was once a simple event: a time mid-session for all campers to get their stuff reorganized, sweep, and take out the trash in their cabins. However, campers' enthusiasm for cleanup has morphed the event such that there is now an entire additional (and optional) component of competition. Though there is literally no prize, many campers spend a lot of time transforming their space and going above and beyond to create a lovely experience for staff judges. Tea is served, original songs are sung, snacks are provided–this year there were even cabins with theatrical acts. It's one of my favorite camp traditions at Oregon Session 2 because it has sprung up so organically. It feels like a living example of our mission statement to create a space "…where adventure, mystery, music, wild spontaneous fun, and magic prevail."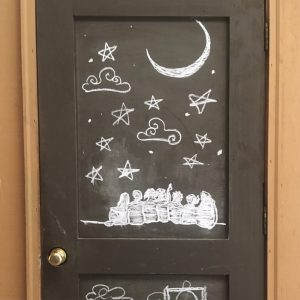 cabin cleanup day door decor ~ photo by Margie Sanderson
Another moment of pure camp magic came a few days later with "Chopped," which was the Senior Staff Choice evening event. (You can read more about the event in Kitchen Coordinator Franny's post.) I was neither a judge nor a commentator, but I had so much fun just watching the contained chaos and laughing with everyone. Though I didn't get to try the desserts the camper teams created, I did have two servings of Franny's epic creation, which was a total testament to her kitchen skills. Eating her dessert was a reminder of how lucky we are to have such a skilled and dedicated kitchen coordinator on our team.
Gratitude was a theme of this camp session for me. I feel so grateful to work at NBTSC–I love the community as a whole, I love my fellow staffers, and the campers simply never stop amazing me. As an advisor at this session I got to sit in on the Culminator Meeting which happens at the end of camp. This is a time for Culminati  (campers in their 4th+ year, who are aging out or definitely not returning as a camper, and who opt to engage their last year in an intentionally thoughtful way) to meet with advisors and the director and reflect back on their experiences at NBTSC. Hearing each of the Culminati reflect on their personal growth throughout their time at camp, as well as what their plans for the future hold, made me teary eyed.
After the session ends for campers, we on staff conduct an epic site clean-up and multi-hour closing meeting before enjoying one final dinner as a full group in Eugene.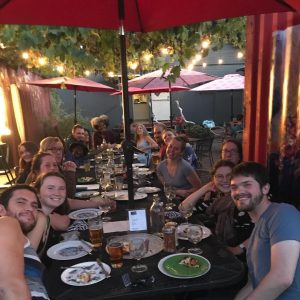 photo by June Kinch
Sitting down to dinner at the Pizza Research Institute, surrounded by thoughtful, smart, and caring friends, is always a reward after the intense work of being at camp. Despite the exhausting and frustrating moments of working at any summer camp, I would do this work at NBTSC again and again. To all who had a hand in it, thanks for another wonderful session of camp!